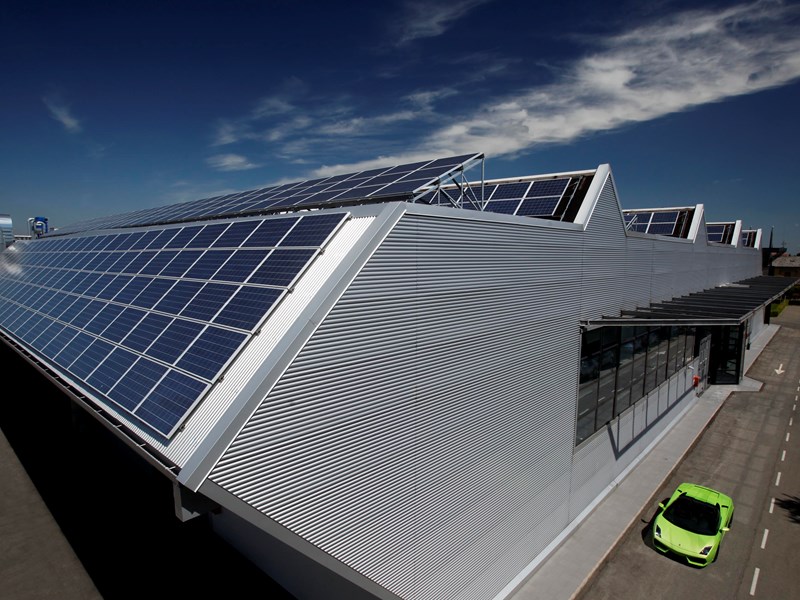 Automobili Lamborghini is the first automotive company in Italy to attain the ISO 50001 certification.
This certificate is a recognition of the company's strong commitment to constantly improving energy performance in all areas: from design, development and production of the world's most extreme super sports cars up to building, assembly and finishing of the carbon fiber monocoque of the Aventador. The certificate also includes the after-sale service activities and building energy management.
This acknowledgment is the result of a complex verification process carried out by DNV Business Assurance – one of the major independent certification boards at international level.
Automobili Lamborghini found the new ISO standard to be the most appropriate tool for monitoring the attainment of its goals to improve environmental conditions and energy efficiency. The new standard also provides detailed energy assessment by single project and system, and makes it possible to integrate goals to reduce CO2 for buildings included within the assessment.
Lamborghini already has ISO 9001 (quality management) and ISO 14001 (environmental management) certification, and was the first Italian automotive company to obtain EMAS (Eco-Management and Audit Scheme) certification.
"We are truly proud to have attained ISO 50001 certification, which consolidates Lamborghini's environmental sustainability and energy efficiency commitment," said Stephan Winkelmann, President and CEO of the Sant' Agata Bolognese company. "We are also actively working on measures and projects that will result in the plant becoming neutral in terms of CO2 emissions by 2015. This commitment in the area naturally goes hand in hand with product development, for which we reiterate our goal to cut emissions by 35% by 2015."
Massimo Berlin, General Director of DNV Business Assurance in Italy remarked: "Environmental protection has always been at the heart of DNV Business Assurance's activities, and we are happy to have been Automobili Lamborghini's partner in such an ambitious project. The decision to abide by the new ISO 50001 standard confirms Lamborghini's serious commitment and long-term outlook: conditions that are essential in order to achieve organic and sustainable growth."
One of the projects that will contribute to attaining the pre-set goals in terms of cutting emissions and increasing energy efficiency is the construction of a brand new building inside the main plant by 2012. This building will house the Prototype and Pre-Series Assembly Department, where prototypes of the cars are analyzed and assembled.
Designed in collaboration with the engineering firm Prospazio, this building will be built to attain Industrial Energy Class A (consumption: (= 8 Kwh/m3 in one year) and will be the first industrial organisation in Italy to be entirely built with these characteristics. This result is achieved by utilising latest generation solutions and techniques as far as the external facings are concerned.
The building will also be equipped with a photovoltaic roofing system that will guarantee the annual electricity requirement, thus allowing it to have zero CO2 impact. This requirement will become a standard for all new Lamborghini buildings.