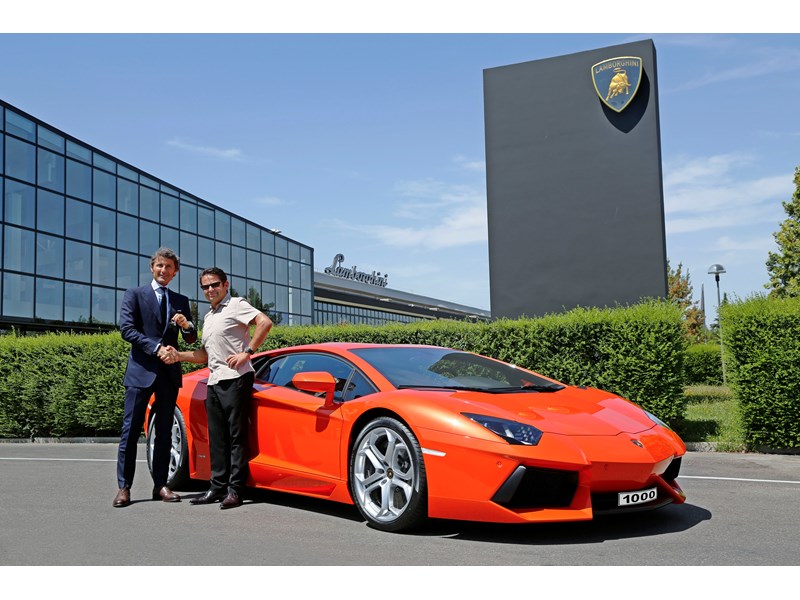 The Lamborghini Aventador LP 700-4 today achieved an important milestone in its history, with the 1,000th vehicle produced. The Argos Orange vehicle with chassis number 1,000 rolled off the assembly line, destined for Germany. Its new owner, Hans Scheidecker, received the keys today from Automobili Lamborghini President and CEO, Stephan Winkelmann. The Bavarian architect is a passionate Lamborghini customer, already owning a Lamborghini Diablo.
The Sant' Agata Bolognese plant's productivity has noticeably increased for the Aventador LP 700-4 compared to the previous flagship model: the Murciélago took two years and five months before the 1,000th example rolled off the assembly line. Launched at the Frankfurt Motor Show in 2001, the Murciélago reached the 1,000-vehicle milestone in February 2004. The Aventador has taken just one year and three months, with production increasing from three vehicles a day in Q3 2011 to 4.5 today.
This production milestone is not the only accolade for the V12 super sports car from Sant' Agata Bolognese. Indeed, little more than a year from its official debut, the Aventador has been crowned queen of the super sports cars with no less than 36 international prizes for its design and innovative technological solutions. The success of the Aventador is also demonstrated by its order book, which continues to cover the next 18 months of production.