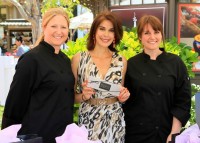 COSTA MESA, CA – June 5, 2013 – Lamborghini Club America is excited to announce Michelle haut Chocolat as an official sponsor of Serata Italiana "Ignite Your Senses" Lamborghini gala held Saturday, August 17, 2013.
Michelle haut Chocolat chocolates are handmade from scratch daily using all natural ingredients in their Laguna Beach Chocolate Kitchen & Tasting Room.
Michelle haut Chocolat chocolate is a custom blended 73% bittersweet… READ MORE.