Lamborghini Aventador LP 700-4 Roadster at 2013 Dubai Motor Show, in the year Automobili Lamborghini celebrates its 50th Anniversary: '100 years of innovation in half the time'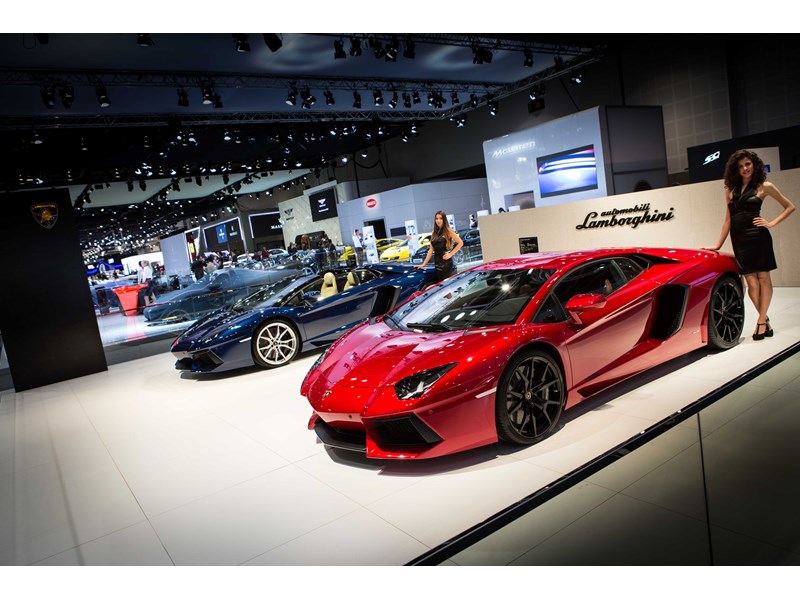 Sant' Agata Bolognese/Dubai, 5 November 2013. The Lamborghini Aventador LP 700-4 Roadster launched earlier this year, will be shown on Lamborghini Dubai's stand at the 2013 Dubai Motor Show, with delivery commencing of the first cars in the UAE.
This open top version of the V12 Aventador LP 700¬4 Coupe, built on a carbon fiber monocoque, combines lightweight engineering with exceptional torsional rigidity and safety. A V12 6.5 liter engine outputs 700 hp at 8,250 rpm and 690 Nm of torque at 5,500 rpm. With acceleration from 0¬100 km/h in just 3.0 seconds (Coupe 2.9 seconds); a push rod suspension system derived from F1 technology; and an e¬gear transmission providing gear shifts in as little as 50 milliseconds, both Coupe and Roadster versions provide extraordinary handling and performance together with a top speed of 350 km/h, while the Roadster adds the ultimate open top driving experience to the Aventador's prowess.
First deliveries to customers of the Lamborghini Aventador LP 700¬4 Roadster in the UAE are now starting. Deliveries of the Aventador in the Middle East have already increased by more than 50% in 2013 to end September compared to the same period in 2012. Lamborghini Aventador models remain forward sold for more than 12 months worldwide.
2013 has also seen year¬long international celebrations of Automobili Lamborghini's 50th anniversary, particularly the reunion of 350 Lamborghinis from across the world, including from the Middle East, at the Grande Giro in Italy in May. A local Middle East celebration will take place from 15 to 17 December, with a drive event for around 70 Middle East cars and their owners in the Dubai region. The event will be attended by senior Lamborghini management from Italy with President and CEO Stephan Winkelmann also expected.
The Lamborghini Aventador LP 700-4 Roadster at Dubai Motor Show is shown in Blu Hera, on Lamborghini Dubai's stand number SS100, and is already sold. The Lamborghini Aventador LP 700-4 coupe is shown in Rosso Efesto, an Ad Personum colour. Lamborghini's Ad Personum program allows clients to customise their Lamborghini in virtually any external and internal colour and trim.
Automobili Lamborghini S.p.A.
Founded in 1963, Automobili Lamborghini is headquartered in Sant'Agata Bolognese, in Northeastern Italy. The Lamborghini Squadra Corse, presented at the recent Frankfurt motor show, is dedicated to the new Squadra Corse motorsports department. It is the most high-performance street-legal Gallardo ever produced and celebrates the most successful model in the history of Lamborghini. With the introduction of the Aventador LP 700-4 Roadster in 2013, joining the coupé presented in 2011, Lamborghini established yet another landmark in an uninterrupted series of extraordinary, exclusive super sports cars that include the 350 GT, Miura, Espada, Countach, Diablo, Murciélago, and limited series like the Reventón, Sesto Elemento, Aventador J and Veneno. The Veneno, created to celebrate 50 years of Lamborghini in 2013, was produced in only three units and sold at the record price of 3 Million euro.
For more photos and videos, please visit: http://www.lamborghini.com/press; http://www.thenewsmarket.com/lamborghini
For more information on Automobili Lamborghini, please visit: www.lamborghini.com