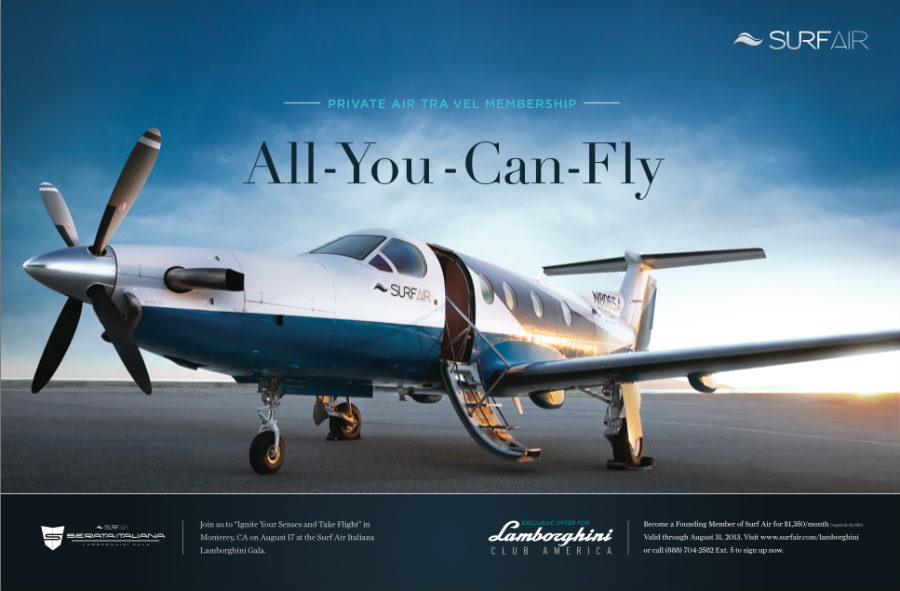 Exclusive invite to Lamborghini Club America members, based on limited capacity. Become a Surf Air member for $1,650/month with a $500 one-time initiation fee. Visit www.surfair.com/lamborghini to sign-up now.
Surf Air is Serata Italiana's newest sponsor known as the Netflix of airlines and deemed the "future of flying." A sublime sponsor partnership as Automobili Lamborghini celebrated its 50th anniversary with the launch of Egoista, a jet and aviation inspired Lamborghini.
About Surf Air
Launched summer of 2012, Surf Air, formerly PlaneRed, simplifies and enhances the flying experience through an exclusive all-you-can-fly monthly membership. Surf Air provides first-class service on executive aircraft to and from convenient local airports in Palo Alto, Monterey, Santa Barbara and Los Angeles, with extended service to Las Vegas and Lake Tahoe to follow. Operating out of local mid-sized airports, the company offers an affordable and sophisticated travel experience for frequent regional travelers. For more information, visit www.surfair.com.