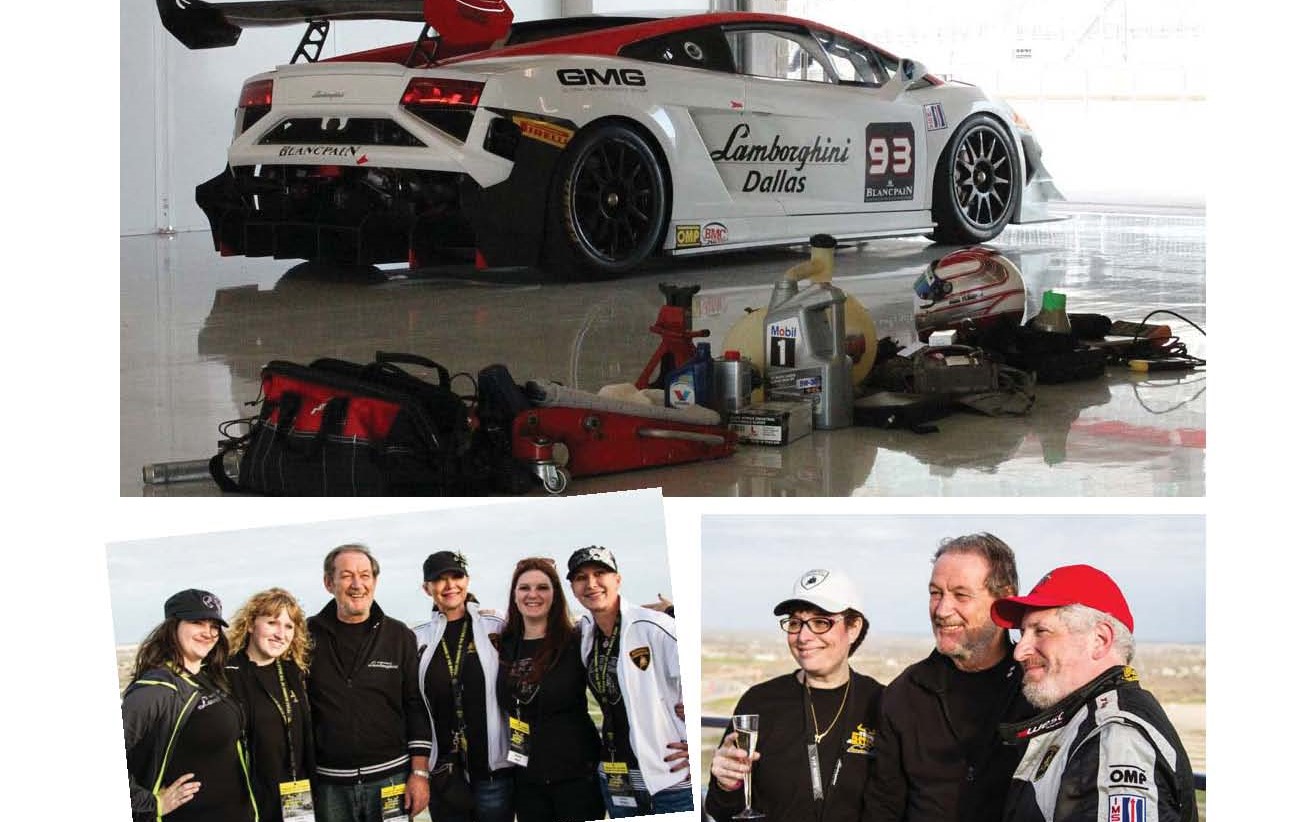 Photos by Mason Bleasdell, Scott Lieberman, Dave Marcus,
David Stevens, Scott Stoner
LAMBORGHINI CLUB TEXAS (LCT) HOSTED THEIR 11TH ANNUAL Texas Running of the Bulls (TRB) event from February 20-23, 2014. The four-day celebration started in Houston and made its way to Austin and included various social events, a track day, a cruise through some of Texas' beautiful hill country and a public concours event. This year's event hosted a total of 181 participants who travelled to Texas from all over the world, even as far away as Italy. Lamborghini Club America (LCA) members from California and many other states shipped, trailered or drove their vehicles to join in on the festivities as well. Fortunately, the picturesque weather only amplified the amazing events both indoors and outdoors.
Thursday, February 20th: Day One – Travel, Check-in &Kick-off Party
Many of the participants this year chose to join in on the rally from Houston up through the rolling hills en route to Austin. Guests arrived at the luxurious Hotel Sorella (the official TRB hotel) located in Houston's prestigious City Centre area. Once checked-in, guests rested and relaxed until the evening's kickoff party held at The Marque, an ultra-exclusive private members-only club also located in City Centre. TRB Event credentials granted participants VIP access to a unique selection of only the finest hors d'oeuvres, food and cocktails in one of The Marque's beautifully decorated private lounges. Lamborghini legend, Valentino Balboni, also arrived from Italy and mingled with guests to share some of his exciting Lamborghini tales.
The event ended just after 11 PM and participants headed to their hotel rooms in order to rest up for the exciting drive Friday morning. Throughout the evening, as guests were enjoying fine food and wine, TRB volunteers applied various TRB and sponsor decals on participant's vehicles in order to be prepared for the rally the following morning.

Friday, February 21st: Day Two – Brunch, Travel to Austin, Check-in & Dinner
Friday started with brunch at the Houston Texans Grille, a NFL-themed restaurant located within walking distance from Hotel Sorella. The American-style buffet included buffalo wings and beef sliders, among many other items. The organizers made several announcements and also provided printed rally booklets to all participating drivers for rally north to Austin.
Before heading off, participants had one more opportunity to mingle with each other at a nearby parking lot and take pictures of the 40+ vehicles in a vast array of colors which had gathered.
Leaving as a group provided the many spectators who came onto the scene with some amazing videos and sound bites. The 151 mile trek to Austin along Interstate 10 Eastbound towards TX-71 began with the sound of all the raging bulls at full blast. About half way from Houston to Austin, the bulls made a pit stop at Hruska's Store & Bakery in Ellinger to top off their tanks and take a break.
The journey continued thereafter directly to the W Hotel in Austin, the official hotel for the remainder of the weekend. Upon arrival, each driver was provide with an assigned parking space in the hotel's private VIP garage along with a key fob which allowed them to enter and exit the garage as they pleased. TRB drivers were allowed to keep their vehicle's keys at all times and had full access to their vehicles (a privilege normally not allowed to hotel guests, but only given to our TRB participants). In the hotel lobby, event staff greeted guests, passed out event
programs, shirts, swag bags and other goodies.
Participants had a few hours to rest in their hotel rooms or the lobby's bar lounge before heading to the social event planned for Friday evening at Lamberts Austin. The venue, just one block from the W Hotel, offered the best Barbeque food and drinks at this true Texan style upscale BBQ restaurant.

Saturday, February 22nd: Day Three – Track Day, Hill Country Cruise & Gala
LCT's Performance Driving School was by far the main attraction of the TRB weekend. This ultra-exclusive instructional driving course for Lamborghini owners gained full-day, exclusive access to the world's best Formula One racetrack, the Circuit of the Americas (COTA). The highest qualified and experienced instructors from within the state of Texas were hand-selected by the club and paired with drivers to ensure the maximum quality of instruction and safety.
The day began as the sun crested over the horizon at 6:45 AM when participants met in the garage of the W Hotel to warm up their bulls for the group run to COTA. They were greeted with a warm continental breakfast upon arrival and prepared their cars for the first session. After drivers & guests filled up with breakfast, the first classroom session began. Like last year, drivers were placed into one of two groups: Sport (intermediate) and Corsa (advanced). Guests of drivers and non-track participants were provided paddock club access, which included VIP box grandstand seating in front of COTA's main straight and direct access to the paddock garages below. Names of all participants were also displayed on individual slides across the various jumbo-trons throughout the facility to enhance the racing experience of a circuit event.
TRB organizers surprised guests by making this the first event to bring true Super Trofeo race cars to race at the Circuit of the Americas! Truly the highlight of the track day, the two Lamborghini Super Trofeo Racecars brought to Austin by Lamborghini Beverly Hills and Lamborghini Dallas showcased the absolute best of Lamborghini engineering and racing prowess first-hand. In between Corsa and Sport group sessions, professional racing drivers showcased what these truly amazing racecars are capable of on a complex track such as COTA. Lamborghini Beverly Hills also provided the opportunity of a lifetime by giving passenger rides to a very exclusive group of track participants from the Corsa drivers group potentially eligible to obtain their IMSA racing license to eventually race in the Super Trofeo series! These lucky individuals were able to experience what these Super Lamborghinis are all about at the hands of Super Trofeo World Champion, Andrew Palmer.
This year's surprise guest of honor was World Superbike Champion and MotoGP racer, Colin Edwards. He attended the track day on his 40th birthday while meeting and taking pictures with those on hand. Colin also enjoyed racing a Lamborghini Aventador around the track just weeks before announcing his retirement from professional motorcycle racing. Being his last major event before he officially announced retirement from professional motorbike racing, it was truly an honor to have such a racing legend attend the event and socialize with many TRB participants.
After a short break for lunch, all Lamborghini owners present were invited out onto the track to participate in a parade lap around the COTA course. Although the parade lap only reached mild speeds, it was an exciting experience for all non-track drivers to experience the elevation changes of this Formula 1 race track first-hand. As the afternoon classroom sessions for the track began, nontrack participants were led on a Texas hill country cruise through some amazing twisty and picturesque roads west of Austin. The group returned to COTA several hours later just in time to go atop the COTA observation tower (250 feet above the track) for a celebratory champagne toast and views of the entire track as the Super Trofeo race cars roared by beneath their feet.
Everyone left COTA by 6:15 PM to head back to the W Hotel prepare for the evening gala. Held at the top floor ballroom of the Hyatt Regency Hotel in downtown Austin, the gala featured a silent auction of Lamborghini and sports memorabilia. Throughout the evening speeches by many of the organizers were given, including LCT President (Safeer Hassan), LCT Vice President (Omeed Abedin), LCT Marketing Director (TJ Dillingham) and LCA President (Andrew Romanowski). Always a crowd favorite, Valentino Balboni also recounted on many of his famous stories while at Lamborghini to lighten the atmosphere as guests laughed aloud at his entertaining stories.
The evenings headline guest speaker, Andrew Palmer, shared his serendipitous story of how he fell into Super Trofeo racing. Amazingly, while he was professionally kart racing, Andrew worked at the local country club/racetrack at Thermal in California. Coincidentally, Tom O'Gara, President of Lamborghini Beverly Hills, also happened to be a member there and witnessed first-hand Andrew's skills on the track. Before Andrew knew it, James Sofronas (President of GMG racing) and Tom O'Gara decided to give this exciting young talent a shot to the big leagues.
As they say, the rest is history.
Next, LCT presented several plaques during the awards ceremony. Lamborghini Beverly Hills, Lamborghini Dallas and XPEL Technologies were recognized for their sponsorship of the event. Rick Hartley, President of The 100 Club, a nonprofit which financially rescues families of fallen law enforcement officers and firefighters, was presented with an award for his 30+ years of service to this noble organization. Finally, this year's Lamborghini Club Texas Lifetime Achievement Award was presented to Thomas O'Gara for his longtime passion for the Lamborghini brand and his achievement of going from a novice driver to the championship points winner in the Super Trofeo Racing Series in North America.

Sunday, February 23rd: Day Four – Esotico Italiano Concours & Check-out
After a fun night out on the town on Saturday night, participants received a full night's rest Sunday morning as they slept in and started their day at 10 AM. Everyone gathered as a group in the W Hotel Garage to prepare for the amazing drive up Austin's rollercoaster route 2222 to The Oasis on Lake Travis. This unique hill top venue overlooking Lake Travis in west Austin was chosen for the weekend's premier concours event for all Italian exotic automobiles: Esotico Italiano. It featured a large open parking lot draped along the hill top encompassed by a beautiful backdrop of hills, greenery and water.
Almost 100 cars were on display and over 3,000 spectators came through during the 4 hour event (advertised via social networks and a PR campaign by the club). Lunch was provided to the participants at the Oasis restaurant and gave everyone the opportunity to enjoy an upscale Tex-Mex menu while overlooking gorgeous views of Lake Travis along the roof top balcony ballroom. Everyone thoroughly enjoyed the accompaniment of great food coupled with such an amazing view.
Judges rated vehicles and awarded trophies to winners in various categories including vintage, modern, modified and best of show. Upon completion of the awards ceremony, everyone returned to the W Hotel to check out and make their way back to their home cities. Those that wished to extend their stay remained in Austin for another night of enjoyment and left on Monday.
The event went off without a hitch and the club officers showed the best of what Texas hospitality has to offer. The overwhelmingly positive participant feedback of TRB2014 may just pave the road for next year's TRB2015 to become a truly international event open to Lamborghini owners from around the world.
The Super Trofeo theme of this year's event demonstrated TRB becoming a showcase for Lamborghini's racing prowess. Next year's event will provide, for the first time, the opportunity for a few lucky Corsa participants to race Super Trofeo cars in order to obtain their IMSA provisional racing license for Super Trofeo. Through the club's Performance Driving School, members will be able to achieve their dreams of racing in the Super Trofeo series. These individuals will get to experience the best of Super Trofeo first-hand in their own dedicated Super Trofeo race car for the day. LCT hopes to encourage as many of its members to participate in the series as possible through this new IMSA certification program hosted by O'Gara Motorsports in partnership with GMG racing.
LCT would like to thank the following partners and sponsors without whom the event would not have been possible: Automobili Lamborghini, Lamborghini Club America, Lamborghini Beverly Hills, Lamborghini Dallas, XPEL Technologies, The 100 Club, Circuit of the Americas, The Oasis at Lake Travis, Sphere Motorsports, Vive: Detailing & Finishing, Royal Collision, Boardwalk Insurance Group, Hybred Photography, Square Melons, Progressive Autosports, DynoMod, Torro Exhaust and Lanveen Freight Logistics.
A special thanks also has to be given to the many people involved in putting on an event of this magnitude including staff, volunteers and attendees. For more information about TRB and future events and activities, please visit the Lamborghini Club Texas website at www.lamborghiniclubtexas.com and their Facebook page, www.facebook.com/lamboclubtexas.