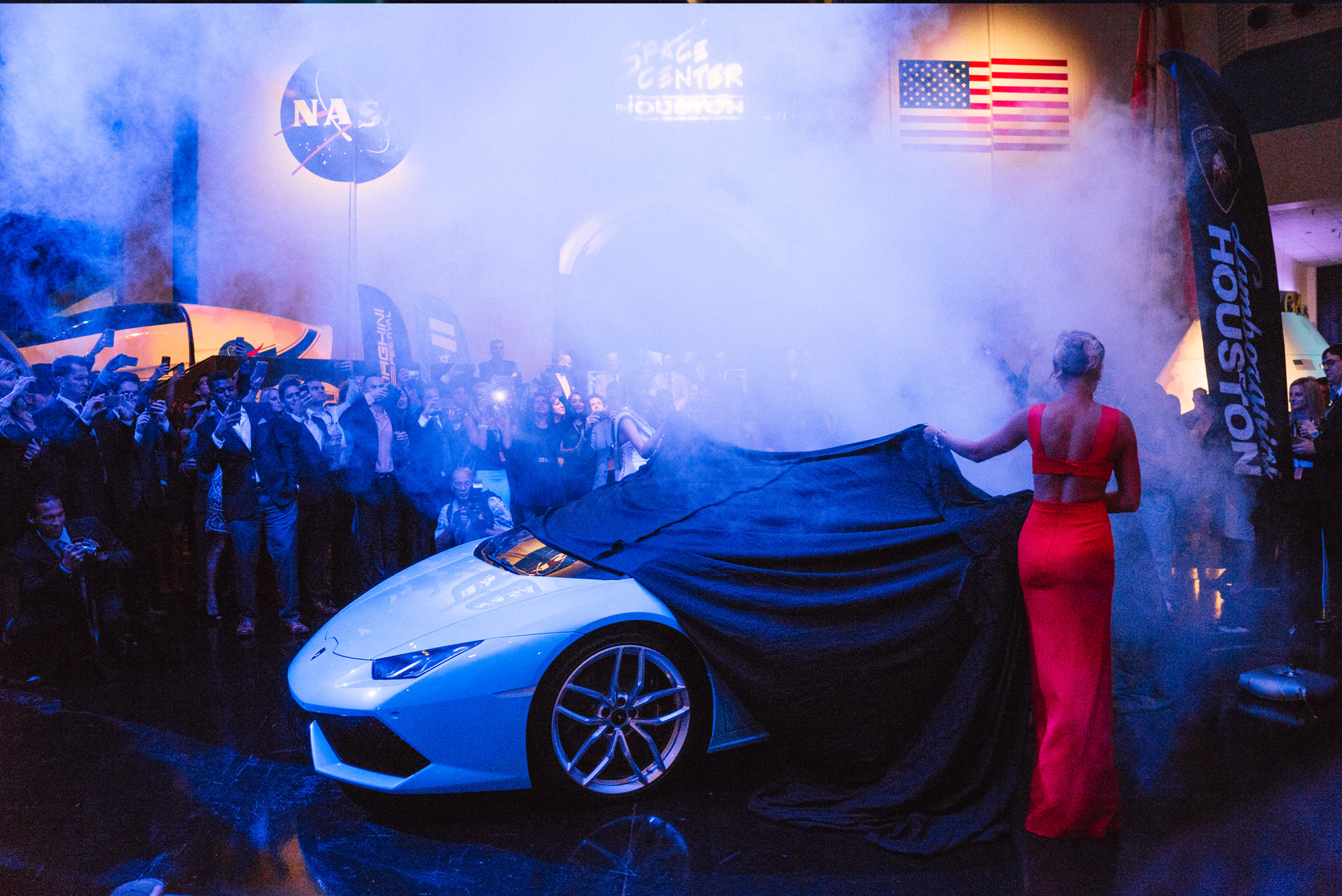 It is no secret that the Lamborghini Festival is becoming one of the most exciting events for Lamborghini owners and enthusiasts across the nation. This year's celebration exceeded all expectations set by long-time participants and new participants alike. Founders Jorge Verdejo and Alfonso Zaza of Scuderia (scuderiasociety.com) have seen their dream grow into an amazing reality. This year the Lamborghini Festival attracted more Lamborghini owners than ever before, as well as world-known brands, traveling from international locales such as Italy and Spain, to take part in this celebration.
But perhaps one of the most exciting and important appearances at this year's celebration came from Automobili Lamborghini S.p.A. with the first official public presentation of the Lamborghini Huracán Spyder accompanied by Alessandro Farmeschi (Automobili Lamborghini America COO) and Daniele Fancello (Automobili Lamborghini America Regional Manager). This support by corporate through local dealership Lamborghini Houston was without a doubt one of the best highlights of the Lamborghini Festival.
This year, the Lamborghini Festival supported Benett's Bears (bennettsbears.org) as well as Hannah Bayer, a 2-year old cancer patient. The Festival exists to raise awareness about pediatric cancer as well as to assist families and small foundations in need.
The official host of the 2015 Lamborghini Festival was none other than Ms. Texas 2015, Sarah Marie Blanton. Actually, Blanton has quite a lengthy record with automotive events, including serving as an ESPN commentator for different professional races and as one of the lead marketing directors for the Grand Prix of Houston.
Friday – The Celebration
This year's Friday Kickoff Party was very special. After many months of hard work, the Lamborghini Festival team secured the iconic Space Center Houston (official visitor center of NASA Johnson Space Center!) as the venue for the Kickoff Party and Lamborghini Huracán presentation. The Lamborghini brand has many things in common with outer space technology, so this was the perfect way to bring both worlds together for a unique and very surreal experience.
Attendees enjoyed a beautiful atmosphere that could only be provided by a venue like Space Center Houston. Activities included a presentation on the IMAX screen, a fashion show by world-known designer LUCHO, and, of course, the presentation of Lamborghini's latest creation, the Huracán Spyder. All in all, this was one of the most memorable exotic car events ever to take place in Texas.
Saturday – Hill Country Drive
The Hill Country Drive replaced the track day a couple of years ago, and everyone enjoys this drive more than anything. This year featured an improved and more enjoyable route. Every year, the number of participating cars grows. In 2014, 65 cars took part in this exciting event, and this year the number grew to 73 confirmed participating cars.
The Hill Country Drive took the group through exciting twists and turns while experiencing a scenic view of small Texas towns outside of Houston. The drive ended in Navasota, Texas, a beautiful and colorful town with historic buildings that has, for the second year in a row, been a major player for Saturday's activities. The city of Navasota sponsored and welcomed all participants and attendees to the historic City Hall for complimentary food, live music, sponsor appearances, and Raging Bulls on display.
Sunday – The Festival
Keeping to tradition, the main event took place on Sunday at Houston's beautiful CITYCENTRE. The dates were changed to early October in hopes of enjoying fairer weather and less rain, which paid off in the form of clear skies and much better weather than in previous years.
Over 80 Lamborghinis signed up for the 2015 Lamborghini Festival! Every year the number grows, and with this growth the planning improves. Sponsors both local and abroad were mesmerized at not only the quality and variety of Lamborghini models but also the number of attendees – which exceeded last year's number of 18,500 confirmed by the venue.
Some of the highlights from this year's celebration included a number of classic bulls such as the 350GT Superleggera, Urraco, and Espada, as well as the very limited edition Lamborghini Diablo GT (1/80 produced) and later offerings by the brand such as the Aventador SV.
Both beneficiaries, Bennett's Bears and Hannah Bayer, were present during the Festival and enjoyed meeting passionate enthusiasts and owners. All participants were touched to learn more about Bennett's and Hannah's stories. It was heartrending to hear that they were both diagnosed at such young ages- Bennett at age two and Hannah at age one.
Special guests for the three-day celebration included the legendary Valentino Balboni, who for the second consecutive year enjoyed a very special Lamborghini Countach LP400 that he helped restore at Top Motors in Italy. This opportunity to see past and present come together is, without a doubt, one of the most memorable aspects of the celebration.
The Lamborghini Festival places much of its focus on children, and for the second year in a row the Festival added the fun experience of live slot car racing. The slot cars were all Lamborghini models, and the track was outfitted with billboards of actual Lamborghini Festival sponsors. And for the first time, the Festival included a kids-only "Mini Bulls Art Contest" with amazing awards and gifts for all who participated.
Valentino Balboni was the guest judge, and children were able to experience the joy of these amazing creations alongside some of the people who made this brand possible. Valentino Balboni has been an important piece of this evergrowing event since its first year, and he regards it as a wonderful opportunity that he enjoys to the fullest. "It is overwhelming to see the event grow year after year and the children that it helps," Balboni says, "I was invited to participate by Jorge and Alfonso since the first year and I have beautiful memories in these four years and know there are many more ahead." Debbie Foreman, the "Batventador" owner, made the 1,500 mile trip from Los Angeles to support this extraordinary event and, more than anything, to support the cause that the Festival stands for.
For more information include video and details for the 2016 event, please visit LamborghiniFestival.com.