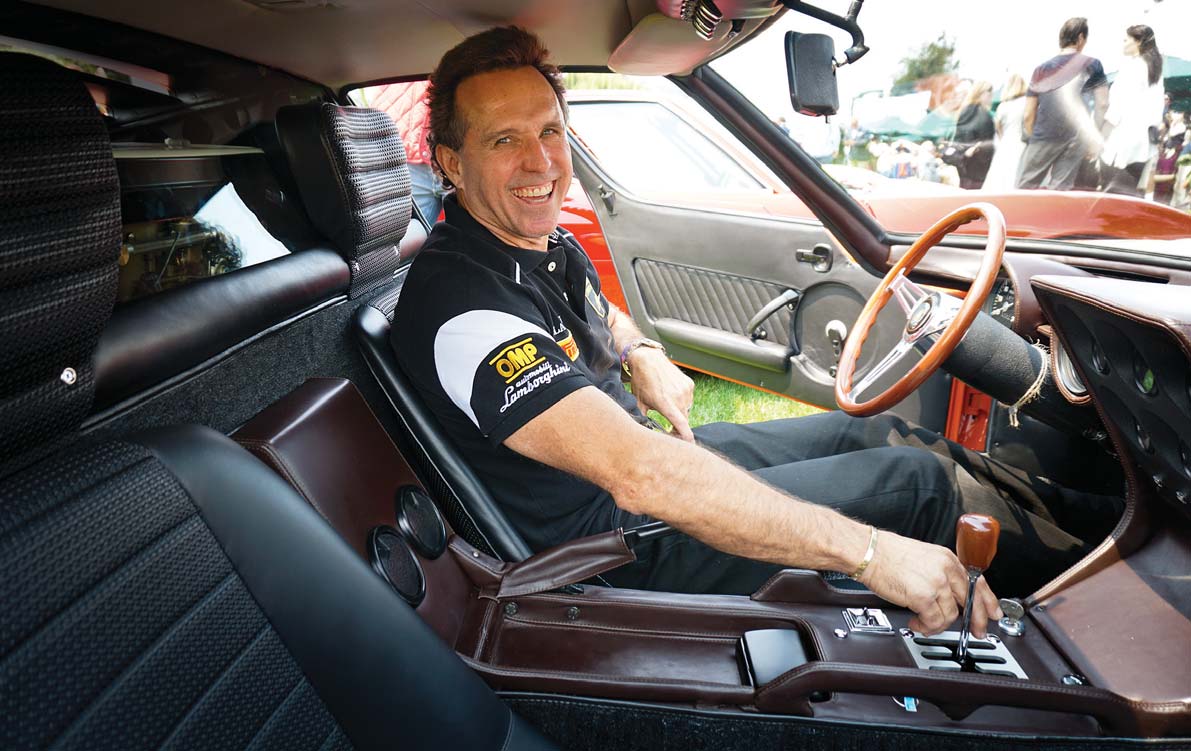 by Michael Weinreb
My love of the Lamborghini brand started with his and hers Gallardo Spyders, one for me and one for my wife, Toni. Once my passion was stirred, I couldn't help myself; in 2007 we added a set of Murciélago LP640s to the family, pearl white for my wife and the Grigio for myself. My wife still enjoys her LP640, but in 2013 I met a Grigio Estoque Aventador with brown interior and I had to have it. The experience of owning and driving these modern Lamborghinis was and is breathtaking, but they were all a prelude to the Miura.
Purchasing my Miura at the 2015 Bonhams Monterey auction began a whirlwind car restoration journey of a lifetime. Fortunately, I was not alone. Thanks to the open support and guidance of the Lamborghini Club community, all of my dreams for the Miura would be fulfilled.
When considering the purchase of a vintage Lamborghini, there was only one on my mind, the Miura. Long time Lamborghini Club member, Dean Aberman owned a 1967 Miura and was going to be sending it to auction. Fellow club members will all remember Dean Aberman for his infamous weekend getaways to Mexico in the very same Miura. Not to mention driving it in the Italian Stampede and at least one trip to the desert to see how fast it would go! Dean was never shy about enjoying his classic Lamborghini, but the extravagant trips were equally matched by maintenance from one of the world's best Lamborghini mechanics, Jeff Stephan. This Miura had a perfect backstory, so in August of 2015 I took it home from the Bonhams auction in Monterey.
Seeing the Miura on the auction ramp started my wife and I on a feverish run of bidding until the car was ours. The rewards of our impulsiveness were confirmed fter the auction when we caught up with Valentino Balboni. Valentino was very familiar with the car; so we knew we had something special. Miura chassis #3057 had been enjoyed and kept alive by use, but still had relatively low mileage and was truly original.
Upon purchase, the Miura presented a faded orange hue exterior with black interior, a brown dash, and a brown center console. The body of the Miura did have a few dents and dings that showed its age, but overall the car was quite original, rust free, and without a questionable history. After returning home to Los Angeles with the Miura I started to consider Monterey 2016 where the Lamborghini Club would celebrate 50 years of the Miura. I had less than a year, but my mission became clear; a complete restoration in time for the event.
With no time to spare, I was fortunate enough to convince Jeff Stephan into continuing his care of this Miura. Jeff also agreed to see the restoration through as a consultant, parts finder, and mechanic; especially in regards to the engine and transmission. I enlisted Debbie Sidera of Debbie Motors to work with Jeff and I now had world class restoration duo. Debbie agreed to handle the more physically arduous tasks required to assemble the car, coordinate painting, and restore the interior along with hundreds of individual components.
With two of the best Miura technicians in the world heading up the restoration, the project was in good hands. Additionally, Jeff recruited Frank of Ed Pink Racing Motors, who kept the machining and engine tolerances to within two ten thousandths. The result was an engine that Jeff considered to be the best motor he has ever built, and you can quote him on that! Only my Porsche Carrera GT compares in regards to throttle response and sound!
Debbie matched the factory color of the paint by applying a clear coat to the inside of the doors before matching. This process provided an unfaded exact match for the original color, a reddish orange called Rosso Miura. We suspected that Rosso Miura was loosely used to describe early Miuras that were either red or red-orange.
Having only ten months to perform a complete restoration in time for Monterey was an extremely ambitious undertaking, but the team worked long hours to pull it off. Even now, I have a hard time believing what they accomplished, but they did it!
The journey of preparing the car for Monterey was matched by an unforgettable experience at the finish line. Showing the Miura at the Quail Lodge, Concorso Italiano, and the Lamborghini Club gala was a true honor. Being a part of the 50th anniversary of the Miura was an amazing four days of Lamborghini history making. Taking part in the anniversary was special in and of itself, but nothing prepared me for the honor of being judged best Miura by the Lamborghini Club at both the Quail and Concorso events. Being judged as the best of the Miura class at the Concorso also put my Miura up against the best of class Lamborghinis overall. Winning the best of class Lamborghini award was an unexpected double honor to be recognized at Concorso and receive the legendary Bull Award from the Lamborghini Club America. This award was passed on to me from Jeff Meier, who won with his Miura from last year. A new winner will be named in Monterey 2017, but for now I will hold the Bull Award with great pride.
It was a surreal, legendary, and epic experience; one that marks my life with true distinction. Monterey 2016 will be held in memory for the rest of my life, just like the Miura that brought me there.
I would like to give special thanks to Debbie Sidera, Jeff Stephan, Andrew Romanowski, Valentino Balboni, Jeff Meier, Andrew Palmer, David Lopez, Frank at Ed Pink Racing, Mega Cycles, and my wife, Toni, for her patience. All contributed immensely to this project.