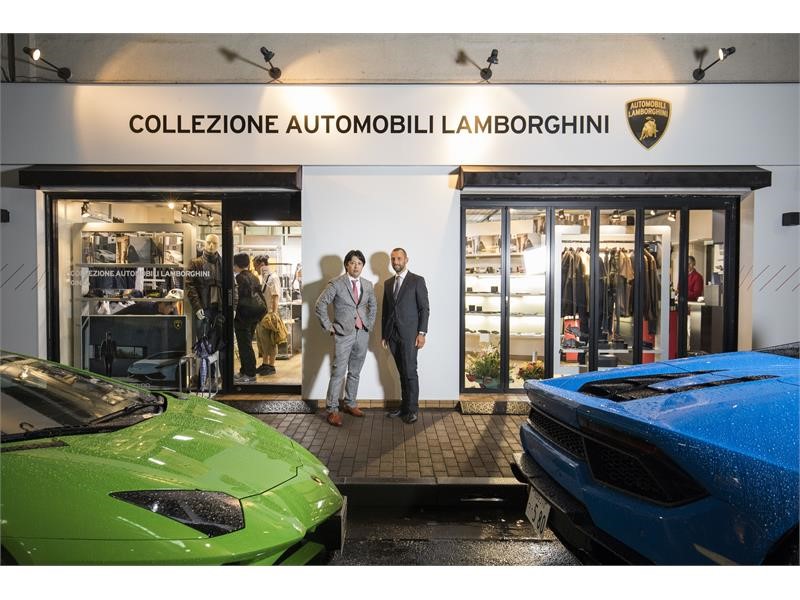 Sant'Agata Bolognese/Tokyo, 25 September 2017 – Lamborghini opened its first official Collezione Automobili Lamborghini store in Ginza, Japan on 23 September 2017. The new boutique includes all the men's fashion collections and the complete accessories line for those passionate about the Lamborghini brand.
The official opening was celebrated with a reception party on 22 September, hosted by Michinori Okabayashi, CEO of Motorimoda Co. Ltd, the company owner of the store who welcomed Francesco Cresci, Head of Automobili Lamborghini Japan. Mr. Cresci said, "I am delighted that Lamborghini's official store has opened in Ginza, the fashion and business capital of Japan, and I would like to express my sincere appreciation to Motorimoda for their efforts in creating an environment in line with our distinctive brand. The official store here in Ginza allows more customers to enter and enjoy the world of Lamborghini."
Michinori Okabayashi, CEO of Motorimoda Co.Ltd said, "Today it is my great honor to launch the store here. Lamborghini is a brand I have most admired since my childhood. When we see the Collezione Automobili Lamborghini ranges, each of them is surely inspired by the passion derived from Lamborghini cars. We are very proud to introduce this collection to Japanese customers."
Collezione Automobili Lamborghini offers customers five lines including Event Suit, Classic, Casual, Vintage, and Pilota Ufficiale. These different lines are conceived for a man who makes an impression in every situation, showing off a bold outfit, defined by the cuts, the materials and the refined and innovative details. Key items for the new Autumn Winter 2017 are the two-button black blazer with a tailored cut and a comfortable fit in tricot paired with the total black jeans with gold stitching details, a contrast with an eccentric and impeccable touch.
The T-shirts and jersey sweatshirts with inserts pick up the motif of the "Y", the design of the cars' headlights. The leather jacket with laser-cut inserts mimic tyre marks and the sartorially-inspired wool blazer features a micro kilim design. Special editions such as the TecknoMonster carbon fiber luggage and Mizuno running shoes, exclusively made for Automobili Lamborghini, share the principles of sharp design and craftsmanship.
Collezione Automobili Lamborghini was founded in 1999 to launch licensing and private collection projects for the Automobili Lamborghini brand and represents Lamborghini's world of culture and tradition.
The Lamborghini brand does not end where super sports cars' engines ignite, but extends to a full product range made of the same design, craftsmanship and exclusivity customers find in our cars.
The collection is created with the greatest attention to quality of materials and production techniques: it is undoubtedly "Born in Sant'Agata Bolognese" and developed in co-operation with top luxury partners.